Hi, Again,
I failed to tell you the cost of this class yesterday. It is a $25 class. I also wanted to show you a picture of the tin the cards come in. It is pictured below.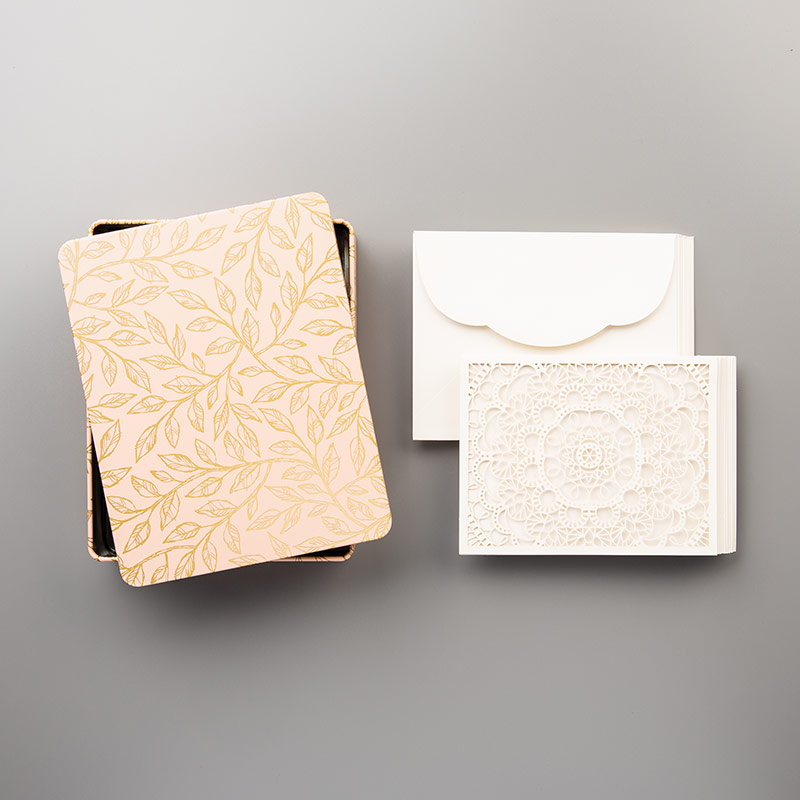 Hope to hear from you!
Robbie Susan
Hi, Everyone!
My next card class is one you aren't going to want to miss! You will be using the 12 beautiful Bird Ballad Laser-Cut cards and matching scalloped-flap envelopes that come in their own beautiful Petal Pink, gold embossed metal tin! You will make 4 cards of 3 different designs. All you need to bring are your scissors, your favorite adhesives (I have those for sale if you're not sure what to bring), and a snack to share. The schedule is as follows:
Monday, July 8th 12:00 1 opening
Thursday, July 11th. 12:00 2 openings
Thursday, July 11th 5:00 3 openings
Saturday, July 13th 12:00 2 opening
Sunday, July 14th 2:00 4 openings
Below are the 3 designs you will be making.
This card uses the new Perennial Flower Punch and our new Petal Pink vellum.
The next card has birds and flowers from the beautiful new Bird Ballad Designer Series Paper.
The last card has butterflies from the Butterfly Gala Stamp Set and Butterfly Duet punch.
Let me know which day and time you would like to attend.
stampican@yahoo.com